At a fleeting glance, it's hard to tell the differences between gelato and frozen yogurt. They are both delicious types of dessert served on sunny days. However, after tasting a spoonful of each, I'm pretty sure you have come to realize how different they taste.
But, that's not all. Gelato and frozen yogurt are far more than just faux amis. Apart from the flavor, the two treats differ significantly in many aspects. If you are here to find out which tastes better, or if you are concerned about the nutritional differences, this post has all the answers.
What are you waiting for? It's time to spoon in!
Gelato Vs. Frozen Yogurt: Are They The Same?
Gelato and frozen yogurt are poles apart. They are dissimilar to each other regarding the manufacturing, the taste, the texture, and the nutrients they contain, including carbs, fat, protein, calories, and probiotics.
Basic Information About Gelato And Frozen Yogurt
Before I get down to the details, let's have a look at some must-know facts about gelato and frozen yogurt.
Gelato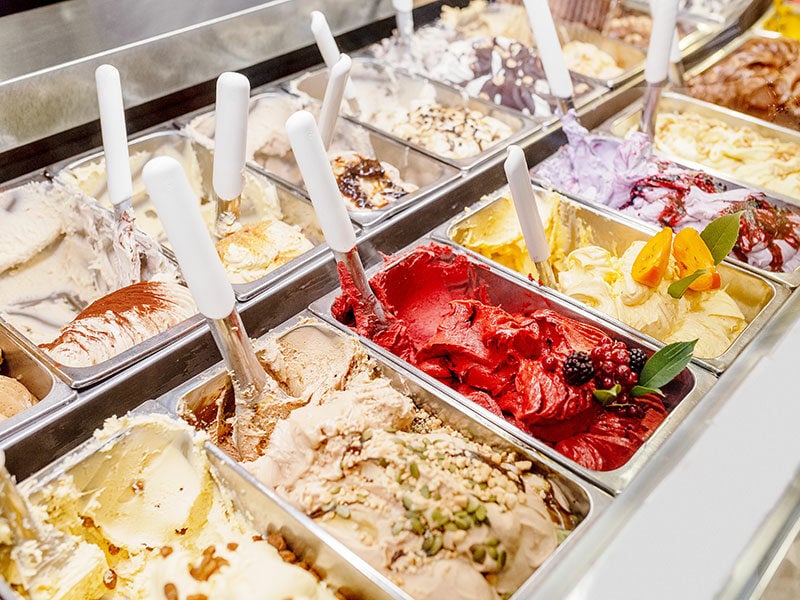 Gelato, which means "ice cream" in Italy, is a frozen dessert that originates from the same country. However, in America, gelato and ice cream are two different things. Plus, gelato is much denser than ice cream; as a result, it is packed with more flavor than its long-lost cousin.
It's no exaggeration to say that gelato is an instant hit. Though it used to be associated with only the elite in the past, nowadays, gelato is made for everyone. You can see gelato on a menu of a fancy restaurant, or you can grab it on the go from any gelateria on Rome streets.
Frozen Yogurt
Frozen yogurt has taken the world by storm since it first appeared in the 1970s. Unlike other cold desserts, frozen yogurt has a distinctive tartness thanks to two live bacteria cultures, Lactobacillus bulgaricus, and Streptococcus thermophilus. These two cultures are proven to be beneficial to your health.
Nowadays, if you crave a delicious cup of fro-yo, you can stop by many big names such as Yogurtland, Sweetfrog, or TCBY (The Country's Best Yogurt). However, the best part of frozen yogurt isn't just about flavor. Once you are at the topping bar, the fun begins – you can get to mix and match various toppings like fruits, nuts, or grains.
The Biggest Differences Between Gelato And Frozen Yogurt
Even though they seem familiar at first glance, there are three notable differences between gelato and frozen yogurt.
No cream is involved in the making of fro-yo, while a lot of sugar is used to tackle the tartness.
Gelato is very dense, which accounts for the fact they have more calories than ice cream (since it contains less air).
Gelato is lower in fat than ice cream, but its flavor is much stronger
And now, it's time to delve into the details.
The Ingredients
Gelato is relatively simple to create. All you need is water, heavy cream, milk, and sugar, sometimes fruit or nuts puree for flavors.
Meanwhile, frozen yogurt is more challenging to make, as it involves the inoculation with two live cultures. The other core ingredients include milk solids, milk fat, and flavorings. Frozen yogurt also contains a lot of sugar or, alternatively, artificial sweeteners.
Both treats sometimes contain emulsifiers or stabilizers to maintain the viscosity, giving them uniformity when served at room temperature.
The Making Process
Gelato
To make gelato, all the ingredients are mixed and then churned until congealed. The churning process is carried out slowly to not incorporate air, which results in a dense texture. Due to the higher density, gelato brings out more flavor than frozen yogurt.
You can see this video to know more:
Frozen Yogurt
On the other hand, frozen yogurt is much more complicated to make. The making of fro-yo requires special equipment, and safety regulations must be adhered to. Another striking difference is that frozen yogurt is homogenized and pasteurized, whereas gelato only goes through the latter process.
You can make gelato at home, but it's difficult to replicate frozen yogurt 100%. If you want to give it a shot, refer to the following videos for a complete tutorial.
The Flavor
Gelato does not offer too many options when it comes to flavor. Traditionally, vanilla, chocolate, custard, or cream are some of the available choices. At present, the choices are expanded with fruity flavors, but still, it's a far cry from fro-yo.
Since gelato is more flavorful, only a small volume of it can satiate you on your cheat day, making you feel less guilty. The pronounced flavor also makes up for the lack of toppings that you don't have on your gelato.
When talking about the taste, frozen yogurt is not far from behind. Its signature tartness has managed to captivate millions of people worldwide (even though some fro-yo makers are trying to replicate the ice cream flavor). Frozen yogurt chains are quite creative with their flavor game.
For a full-bodied taste, bring in the colorful toppings. The possibilities are endless, from fresh fruits, sprinkles, nuts, to a bevy of cookies and candies from big names like Oreo or M&M.
The Texture
To maintain the smooth structure and the consistency, sugar is added to frozen yogurt. Moreover, the use of sugar also helps prevent the formation of ice crystals. There are different approaches to stabilize the texture, such as using liquid sugar, hydrocolloids, and nitrogen; however, only the fro-yo experts so far are capable of trying these techniques.
Gelato is usually served at a warmer temperature (10-22 degrees F) to prevent it from becoming solid. As a result, it has got a soft, silky texture with wavy curves. If frozen, gelato will turn into a huge ice cube that takes you forever to finish.
The use of whole milk in gelato has also helped maintain the viscosity, preventing it from melting into a huge puddle. Another ingredient that can be taken into account is milk solids, not fat (MSNF), which, if used to excess, will make your gelato grainy.
Both gelato and frozen yogurt call for stabilizers and/or emulsifiers to retain their structure during temperature changes.
Nutrition Content
For years, people (occasionally) turn their backs away on these two desserts. Why is that, you guess? They don't want to lose their summer bodies after months of hard work. Just a scoop, and everything goes to waste.
In case you have found yourself giving in to temptations, the nutrition content chart below may be helpful for you to consider which one's the better choice. (1), (2)
| | | |
| --- | --- | --- |
| Nutrient | Gelato | Regular Frozen Yogurt |
| Carbs | 22 | 25 |
| Fat | 4 | 9 |
| Protein | 3 | 4 |
| Calories | 127 | 200 |
| Probiotics | No | Yes |
It's discernible who's the winner when it comes to health concerns. For a deeper understanding, I'll help you break down these statistics (note that these figures change in relation to the brand).
Carbs
Carbs are everyone's enemies, especially those ripped boys and skinny girls who never miss a day at the gym. Why do they receive so much hate?
First of all, you need to know what exactly carbs are. Carbs, or carbohydrates, are divided into two groups: simple and complex. Complex carbs are packed with various essential nutrients; plus, they prevent your stomach from turning, making you less likely to wake up in the middle of the night and eat.
On the other hand, simple carbs are bad for you. In fact, simple carbs are sugar; if consumed to excess, it causes a sugar rush in your blood and type-2 diabetes in the long term. Briefly speaking, eat more complex carbs (fruits, vegetables, whole grains) and reduce your sugars intake (soda, cookies, sweets).
On average, a serving of gelato (100g) contains 25g of carbs. This number is not far from frozen yogurt (22g in a similar serving size). Nonetheless, many brands are trying to balance the tartness in fro-yo by adding more sugars, which causes a spike in unhealthy carbs. Oh, I haven't even mentioned the toppings yet.
Fat
Regular frozen yogurt has only 4g fat, a reasonably small amount if you compare it to other treats. This amount decreases if you go for other variants, such as low-fat (3g) and non-fat (0g). These two types are perfect for those who love to pile up the toppings in their cups without feeling guilty. Meanwhile, gelato contains 4-9g fat depending on the brand and the flavor you opt for.
So, should you be worried about those numbers, you ask? The answer is no, as the recommended intake is 44-77g per 2000 calories you consume. In case you found yourself indulging too much in these two cold desserts, what would happen? Too much fat, especially saturated fat, can increase your cholesterol, which leads to several heart-related diseases.
Protein
In regards to protein, these two delicious treats are nearly on the same terms. Protein is a nutrient that does wonders for our health. It supports your bones and muscles, boosts your metabolism, lowers your blood pressure, and helps with controlling weight gain. The benefits are countless.
But, it doesn't mean that too much protein is good for your health. If you exceed the limit intake (46g and 56g for women and men, respectively), it is not good for your heart, bones, and kidneys. An overly high-protein diet is also the culprit of many types of cancer.
Calories
Calories are a pain in the neck. If you're struggling to fit in your skinny jeans, blame the calories. To put it shortly, calories are by-products of carbs, protein, and fat in the form of energy. Your calorie intake is measured according to how much food you eat, including the low-fat and non-fat types. In plain English, the more you eat, the more likely you gain weight.
When it comes to calories, frozen yogurt is far ahead, with only 127. If it's the non-fat variant, this drops to 112. On the flip side, the same portion of gelato has approximately 200 calories.
Probiotic
Frozen yogurt indeed has outclassed gelato concerning the probiotic factor. The probiotics, or more well-known as yogurt cultures, do more than just impart the characteristic tangy flavor to frozen yogurt. What else can they do?
Probiotics promote gut health and help regulate your digestive system. They also bolster your immune system, minimizing your risk of getting critical diseases like cancer. What's more? Probiotics facilitate the absorption of vitamins and minerals. It's such a pity that gelato lacks these powerful bacteria.
An Extra Tip For Your Health Concern
There's no denying that frozen yogurt is a healthy dessert with high nutritional value. Nonetheless, the store-bought versions are a lot more than what you just read. Plus, the flavor matters, too – a serving of vanilla frozen yogurt has approximately 34.8g of carbs! This applies to gelato as well.
Now that you have learned the core differences between gelato and frozen yogurt, I hope you already have something in mind for you today. Whatever you choose, go for smaller sizes, choose the plain flavor, and don't spoil yourself with an abundance of unhealthy toppings.
Did I miss any important details about the differences between these two spoon-licking desserts? If so, don't be shy to share your comments with me below. Any opinions are welcome here.
References
Dare to Compare… Ice cream vs. Gelato: Nutrition for NON-Nutritionists™. (2021). From https://nutritionfornonnutritionists.com/2016/06/dare-to-compare-ice-cream-vs-gelato/
Frozen Yogurt: A Healthy Dessert That's Low in Calories?. (2021). From https://www.healthline.com/nutrition/frozen-yogurt#TOC_TITLE_HDR_3