How to tell if yogurt is bad? Even if there's an explicit "use by" date printed on the yogurt pot, it's not always obvious that this treat has gone bad. There are many factors that can affect the longevity of yogurt, which might extend or shorten this dairy product's shelf-life.
As yogurt can still go stale, even if it's still within its expected shelf-life, many people have mistakenly consumed spoiled yogurt. This can be avoided if you know the signs indicating that the dairy treat has gone past its prime days.
So, when you come across an old pot of yogurt as you're rummaging through the fridge to find something to eat, you should make sure that it's still safe to consume. Even if the "use by" date states that the yogurt is still good for another week or so, it's better safe than sorry.
Before you enjoy a cold bowl of delicious yogurt or use this dairy product to make some popsicles or other yummy treats, let's learn how to tell if yogurt is bad.
5 Telltale Indications That Your Yogurt Is Bad
At first glance, it might not be instantly evident that your yogurt is no longer safe to eat. However, there are 5 reliable signs that you can keep an eye out for if you're suspecting that the dairy treat has expired. Here are the 5 indications that you need to remember:
1. There's an excess amount of water
2. There's a notable change in texture
3. The smell is off
4. There are signs of mold
5. The yogurt's container is bloated
Yogurt – A Delicious Treat For All Weather Types
Yogurt – fermented milk processed with yogurt cultures – is a dairy treat characterized by its tart flavors and thick, creamy texture. While yogurt is often made by cow's milk, some varieties of yogurt are made by plant-based milk or milk from other animals such as goats or mares.
It's a common misconception that you can only eat plain yogurt . There are many scrumptious snacks that you can make with this creamy, tangy dairy product.
For instance, yogurt is the secret ingredient you need to make a soft and moist cake. Freezing blended yogurt with fresh fruits will give an irresistible popsicle, while mixing yogurt with jam allows you to make a hearty topping for your toasts.
You can also add yogurt to your everyday meals. Instead of mayo, you can use yogurt to add more flavors to your salad. This dairy product is also ideal for marinating chicken, making chicken a lot juicier, more tender, and definitely more flavorful.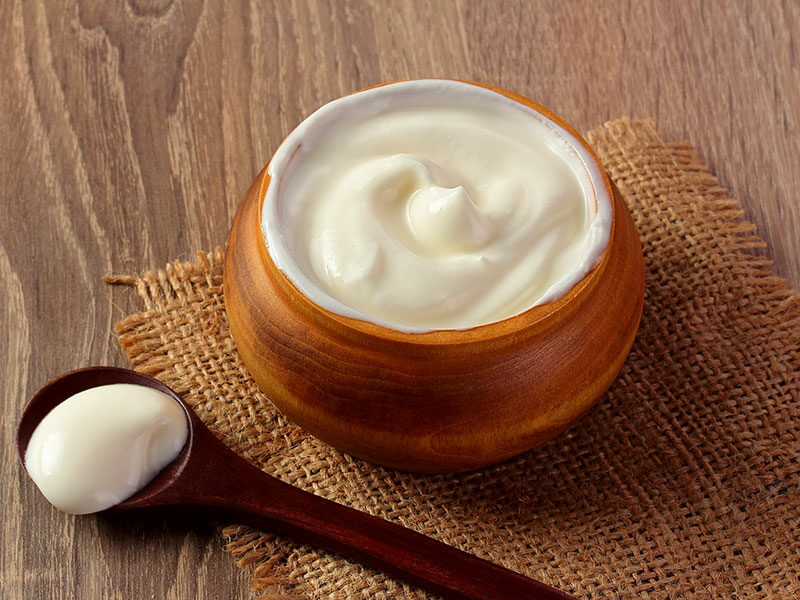 Yogurt's Average Shelf-Life
How long can yogurt last when kept in proper storage conditions? This depends a lot on whether you open the container and keep the treat in the fridge or the freezer.
As there are many types of yogurt, you can expect that different types of yogurt will have varied longevity as well. It can be confusing at first to keep track of them all, so I've made this concise table to help you remember the average shelf-life of yogurt.
| | | |
| --- | --- | --- |
| Unopened Yogurt | Refrigerator (Below 40°F / 4°C) | Freezer (Below 0°F / -18°C) |
| | Past "Use By" Date | Past "Use By" Date |
| Yogurt | From 2 to 3 weeks | From 1 to 2 months |
| Frozen Yogurt | Not Recommended | From 2 to 3 months |
| Greek Yogurt | From 1 to 2 weeks | From 1 to 2 months |
| Reduced-Fat Yogurt | From 1 to 2 weeks | From 1 to 2 months |
| Drinkable Yogurt | From 7 to 10 days | From 1 to 2 months |
| Yogurt With Pieces Of Fruits | From 7 to 10 days | From 1 to 2 months |
| Opened Yogurt | Refrigerator (Below 40°F / 4°C) | Freezer (Below 0°F / -18°C) |
| | Past "Use By" Date | Past "Use By" Date |
| All Types Of Yogurt | Roughly 1 Week | Less Than 1 month |
As you can see, opened yogurt can last considerably shorter than unopened ones, regardless of whether you store it in the freezer or the refrigerator. Traditional yogurt tends to last the longest, whereas variations like drinkable or reduced-fat ones expire faster.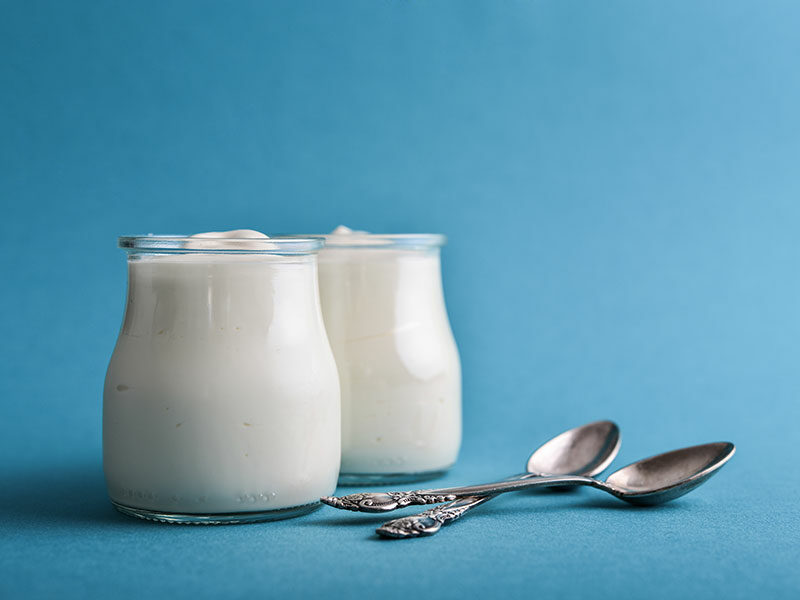 While you can store yogurt in the freezer, it should be noted that freezing this dairy product will considerably change its flavors and texture. So when you thaw frozen yogurt and notice that the texture and flavors seem off, it's not necessarily a sign that the treat has gone bad.
It's not recommended to leave yogurts at room temperature for a long time. Generally, yogurt shouldn't sit out for longer than 2 hours. If the temperature is more than 90°F, you can cut down the time in half, meaning that 1 hour is the maximum span yogurt can sit out.
Top 5 Signs To Tell If Yogurt Is Bad
It's essential to be able to gauge if your yogurt is no longer edible, as this can help you avoid possible food-borne illnesses. Fortunately, as long as you remember these 5 signs, you'll be able to determine whether your yogurt is still good with ease.
1. There's An Excess Amount Of Water
Every now and then, when you open a yogurt pot, you'll notice that there's a thin layer of water on top. This layer is called "whey," and it's actually a gold mine of nutrients. As this whey is not a sign that the yogurt is bad, you can simply stir the pot and enjoy the treat as usual.
While the whey is usually clear in color, there are instances where this nutrient-packed liquid is on the muddy side. However, despite its unappealing look, the whey is still perfectly safe. Once you stir the yogurt, you'll see that the treat's texture is back to normal.
However, if the yogurt's surface contains an excess amount of water, it would be an entirely different story. In other words, if there's a small pond on top of your yogurt, it's an absolute indication that you need to ditch it.
2. There's A Notable Change In Texture
Unless your yogurt is frozen and thawed, it's usually a bad sign that there's a noticeable change in this dessert's texture. You can give the yogurt a whirl; spoiled yogurts might lose their thick and creamy consistency and instead feel overly liquidy.
Lumpy yogurt is another sign that it has to be thrown away. If you whirl the yogurt and notice that the consistency feels like cottage cheese, it will not  be healthy to try eating that.
3. The Smell Is Off
When it comes to detecting spoiled food, your sense of smell is the most reliable one. Your nose is very quick to spot foul and rancid odors, and everyone knows sour and putrid smells mean spoiled food.
So if you're not confident that your yogurt is 100% safe to eat, you can do a smell test. If you find yourself turning away at the odor coming from the yogurt, it means that the food is no longer safe to eat.
4. There Are Signs Of Mold
It goes without saying that mold is never a good sign, especially if it appears on your food. Bad yogurt doesn't always have mold, but moldy yogurt is definitely always bad.
Once mold starts to appear on your yogurt, it means that the entire thing is contaminated. This means that you can't simply scoop out the moldy part and eat the remaining. Never do this, as you might be risking your health.
5. The Container Is Bloated
Yogurts with fruits on the bottom are the most likely to encounter this issue. This happens when the treat is not adequately refrigerated, leading to the fruit fermenting and releasing gases. As a result, the container becomes bloated.
This problem can also happen with regular or drinking yogurt. As the dairy product ferments, it will release gas, causing the container to bulge. In some extreme cases, the lid might "pop" off.
Whatever  your yogurt type may be, it's always a bad sign that the container becomes overly bloated. Just toss it in the trash and buy a new yogurt batch.
Bottom line: If you suspect that your yogurt has gone bad, it's best to dispose of it and get new ones. Don't do a taste test or risk your health eating it, as you might expose yourself to harmful and potentially life-threatening bacteria.
Are you still interested in learning more about how to tell if yogurt has gone bad? Have a look at the video below.
A Definitive Guide On How To Store Yogurt
Storing yogurt the correct way will help it to last considerably longer. Below are the four methods you'll need to keep yogurt fresh past its expiration date.
1. Seal The Yogurt Pot Tightly
If you have opened the yogurt container, you need to tightly seal it before putting  it back into the fridge. Opened yogurt is more prone to catching bacteria, making it likely to spoil within a matter of days.
Opened yogurt might also catch unpleasant odors from other foods and drinks stored in the fridge. While this might not necessarily spoil your yogurt, it certainly will affect the overall taste or smell of this treat.
So if you have an opened pot of yogurt, you need to put it in an airtight container before storing it in the fridge. This should protect the yogurt from strong odors and harmful bacteria.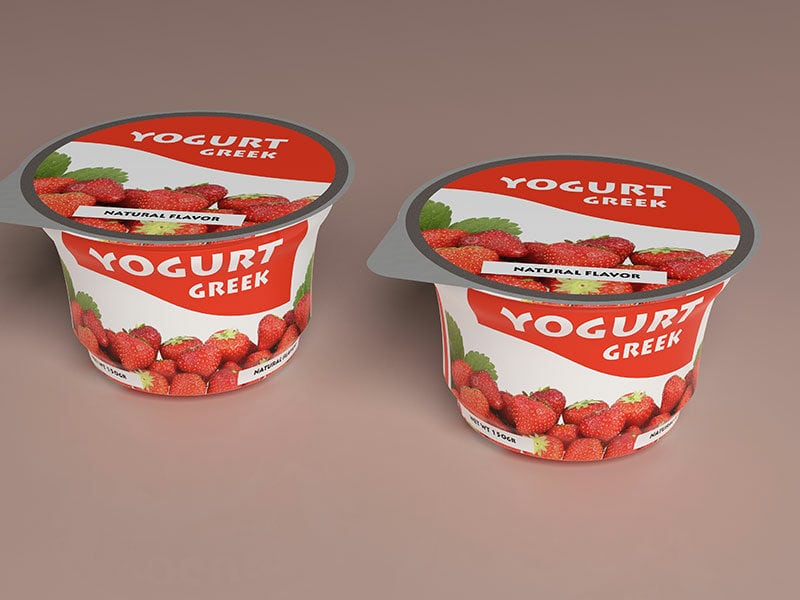 2. Avoid Cross-Contamination
Cross-contamination in food is a serious issue. While many people might overlook this problem, you should know that cross-contamination can speed up the spoiling rate of your yogurt and even give you food poisoning.
To avoid cross-contamination, when you know you can't finish the entire container in one go, you need to use a clean spoon to scoop yogurt out. If you finish eating and want more, get a new spoon to get to the yogurt.
I know that this might seem like a frivolous matter. However, it's always better to take precautions than suffer from repercussions.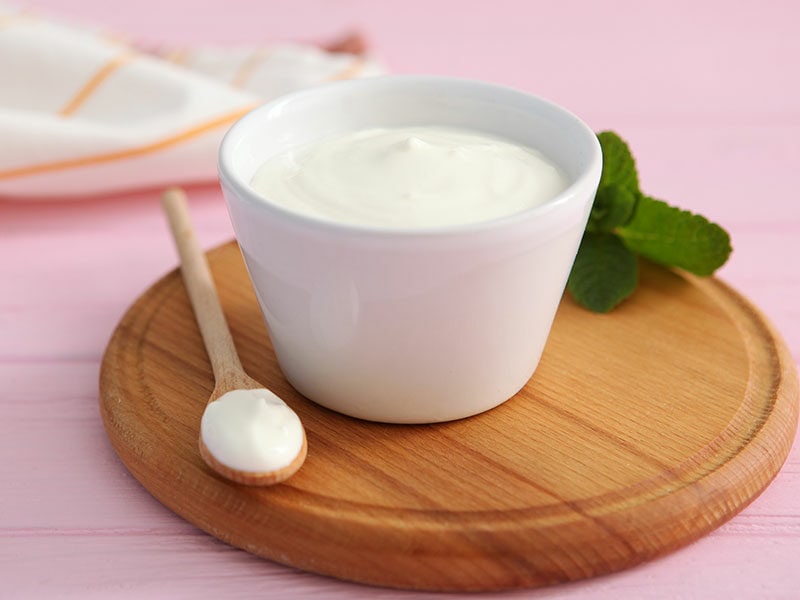 3. Store Yogurt In The Most Ideal Place
Did you know the temperature inside a fridge can vary depending on the position? Yes, that's right. Strange as it may sound, some places are more ideal to store yogurt than others.
The best place to store yogurt inside a fridge is at the back of the fridge. You can keep the yogurt in the drawer closest to the freezer as well. These are the places where the temperature is coldest and most consistent.
If possible, always avoid storing yogurt in your fridge's door. The temperature here tends to vary. While the slight variation in temperature might seem not that serious, yogurt is fragile enough that frequent fluctuations can make it spoil faster.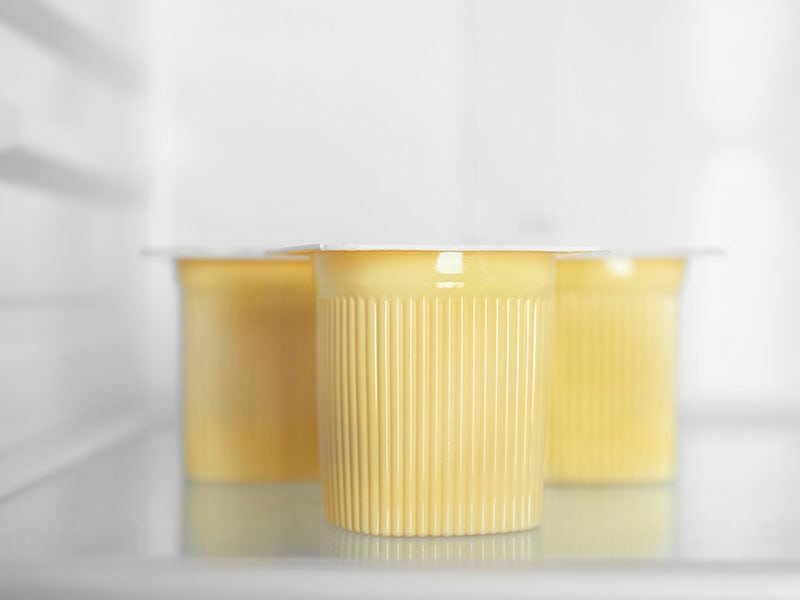 4. Freeze The Yogurt
The freezer is where you want your yogurt to go if you need it to last a very long time. As you can see from the table above, unopened yogurt can stay fresh for up to a month or two inside the freezer.
Freezing yogurt is as easy as it sounds. You simply need to put the whole container inside the freezer and call it a day. Yes, it's that easy.
Of course, if the yogurt container is too big, you can divide the yogurt into smaller batches by putting it in separate airtight containers. However, as this requires you to open the yogurt, you can expect it to last not as long.
If you plan to use yogurt for smoothies or other types of drinks, you can pour the yogurt in an ice tray, preferably one with a lid. If your ice tray lacks a lid, remember to put it in an airtight bag to avoid cross-contamination.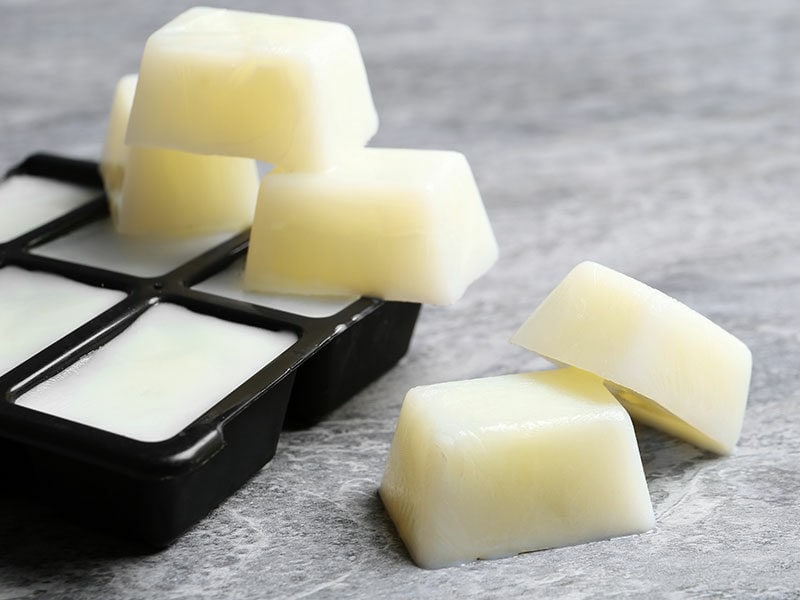 When you need to thaw frozen yogurt, put it in the fridge and let it defrost rather than leave it at room temperatures.
You should note  that frozen yogurt will have different textures than fresh ones.
FAQs
While yogurt might not be rocket science, it's not exactly a no-brainer matter either. If you want to make sure you're eating and storing yogurt correctly , you should check out this section below.
Spoiled Yogurt – Delectable Treat Or Deadly Poison?
I'm sure that if you've reached this point of the article, you've known for certain that it's not ideal to consume spoiled yogurt.
I hope that from now on, you'll be able to remember all the 5 signs of spoiled yogurt. This will definitely help you avoid eating potentially life-threatening foods.
If you find this article  helpful, be sure to share it with your friends and family. This will surely help them avoid eating spoiled yogurt that might be dangerous as well.